Artigo em Português - twitterportugal.com

"About six out of seven (86%) US companies surveyed have used social technologies in support of one or more areas of their business, found a recent study conducted by Mzinga in collaboration with Babson Executive Education.

More than 60% reported using some form of social technology as an ongoing component of their business.
Of those respondents who said their organizations employed social media, 57% reported its use in marketing, 39% cited internal collaboration and learning, and 29% reported social-media use in customer service and support: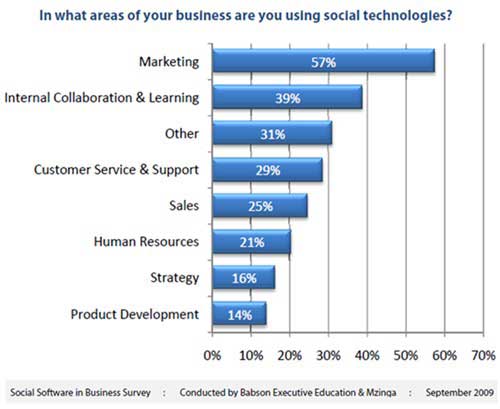 Other key findings:

Some 55% of respondents say their business devotes employee resources (part-time or full-time) to manage and drive social media initiatives, yet only 40% have allocated budget to those efforts.
Common challenges organizations face include senior leadership's acceptance, definition of program strategies and goals, resource constraints, and lack of measurement and ROI tracking.
The top social application and technologies being used at respondents' organizations are blogs, LinkedIn, Facebook, virtual meetings, microblogs (e.g., Twitter), YouTube, chat, standalone community sites that incorporate multiple social tools into one environment, and discussion forums: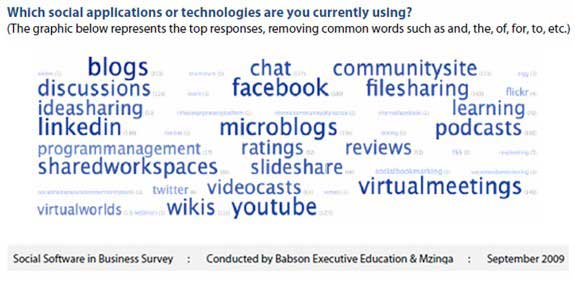 Respondents are generally satisfied with the social technologies available to them, yet 79% of their companies do not measure ROI. (This finding suggests opportunities exist for vendors that can make ROI easily accessible, according to Mzinga.)
41% of respondents do not know whether their current social tools can measure ROI.
55% of respondents report that their current solutions do not lack features or functions they wish were available.
Of the respondents reporting that their companies use social media, 39% use vendor-provided solutions, 26% have implemented proprietary solutions, and 20% use free or trial downloads.
About the data: The survey was conducted August 3-12, 2009, and drew more than 555 participants from various professional disciplines, including media, financial services, consulting, marketing, human resources, and engineering. The report is available as a download."

From Marketingprofs.com

Artigo em Português - twitterportugal.com